We ate a quick breakfast at the Albergue and headed out of Pontferrada, after a quick telebanco hit to provide us more euros. It was raining but we were better prepared. Just a few shots on the road due to rain.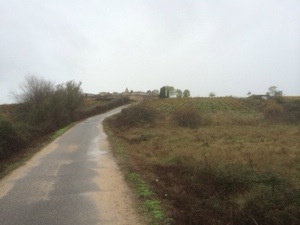 I love the stork nest beside this little ermita.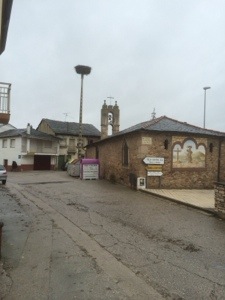 This couple of statues was cute.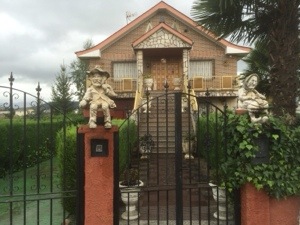 When we stayed in the Albergue Verde, we were given an ad for the Albergue El Serbal y la Luna in Pieros. We were tired in Camponaraya and stopped for wine tasting of the wines if the Bierzo, the region between the mountains where we are hiking. The wines were lovely and we decided to taxi to Pieros. A lovely hospitalera from Bulgaria with a British accent, due to years in Ireland, checked us in and cooked a wonderful vegetarian dinner.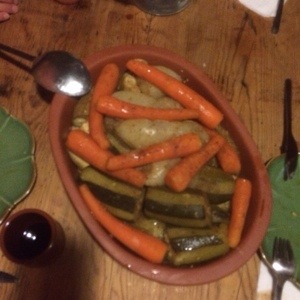 The fellow perigrinos included men from Denmark, Czech Republic, and Spain (via Venezuela and Portugal). There were also two young Americanas, one if whom worked in Maine with puffins. Somehow, the name Franco came up at dinner and the barefoot pilgrim from Argentina had been there the previous night. Another great albergue experience.