Started around 9 after a nice breakfast. First kilometer marker of the day.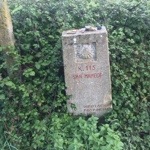 We walked along and saw an interesting black and white sheep and got a view into Sarria.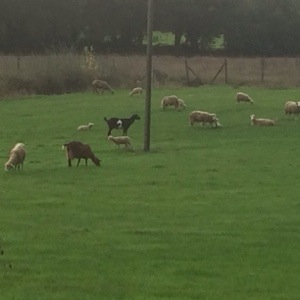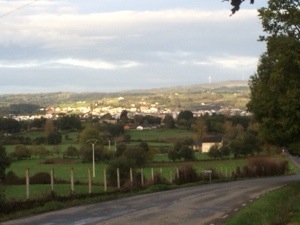 We then went into Sarria which is a start of many caminos since it is just over 100 km from Santiago. We stopped at a bar for café con leche and a croissant. As soon as we left the bar, the rains that Galicia is famous for let loose. We raincoated up and continued on. A slight wrong turn was corrected by nice Galicians. No pictures for a while, however. There were many old chestnut trees with intriguing trunks.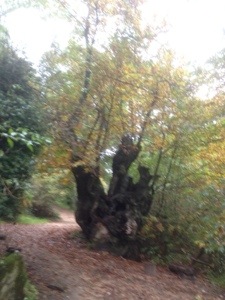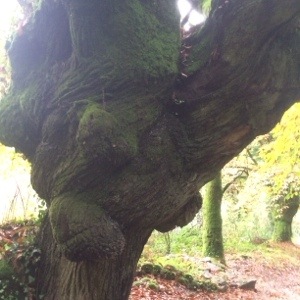 As the rain let up we arrived in Barbadelo and a lovely older gent, either a caretaker or priest, gave us a tour. The church is the highlight of this section of the road, PRS-77. It is a late 12th century church which has very interesting capitals and other outside sculpture.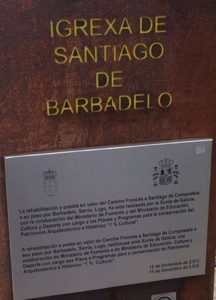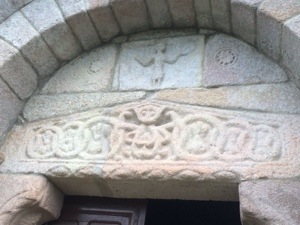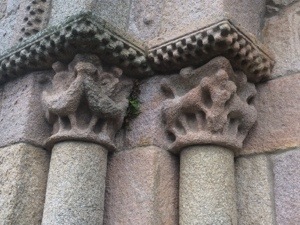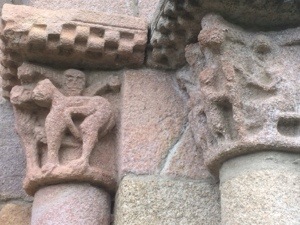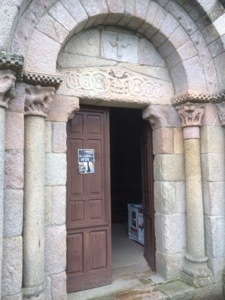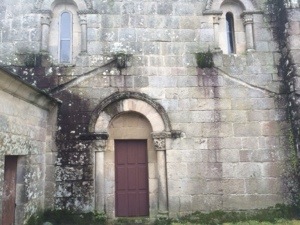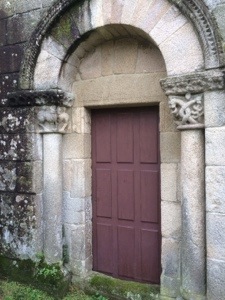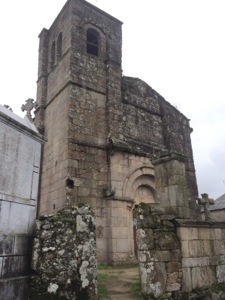 Another feature of the churchyard are the multistory crypts.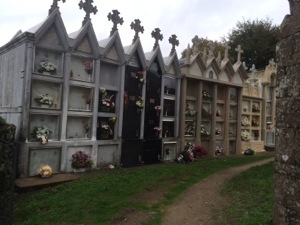 We then went to Casa de Carmen for lunch. While we were waiting, Susan called ahead to Morgade, where we had intended to stay and found that the hostal was closed for the year, so we decided that our walk was done for the day.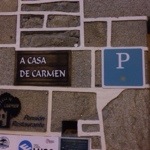 While waiting Susannoticed their stove, a wood fired Aga-like one and took a picture in the kitchen.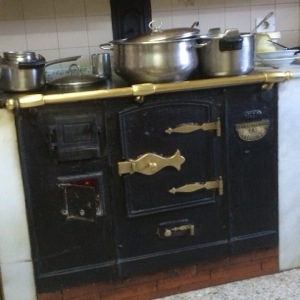 Since we were staying for the night we had a full menu del día served in the kitchen with the owners. We had calzo galego (veggie soup) for the first and albondigas (meatballs) with home grown Italian beans and potatoes for the second. During the meal we had a lovely conversation in Spanish, with Susan doing most of the talking on our side. I understood what was happening but don't speak it that well. One interesting point was that Jenna Bush visited Casa de Carmen during her 2004 pilgrimage on the Camino.
After dinner we went upstairs for a nap and came down around 6. We were told that there was a mass either at 6 or 7 so we hurried down but no luck. We did get a nice sunset though.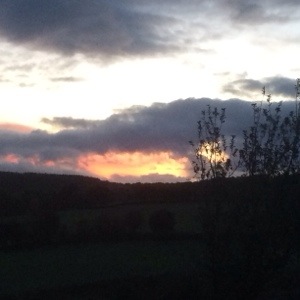 Off in morning for long walk to Portomarín.