Long walk today. Off before 9. Starting post: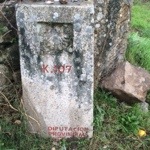 We started without the poncho, but before the magic kilometer-stone, we were in rain. 100 km to Santiago.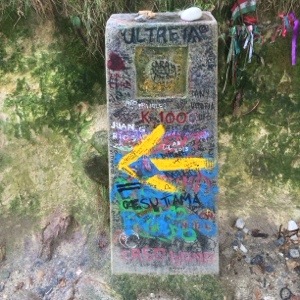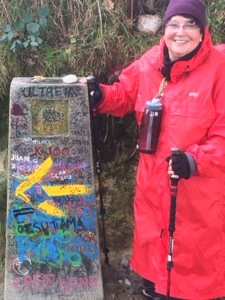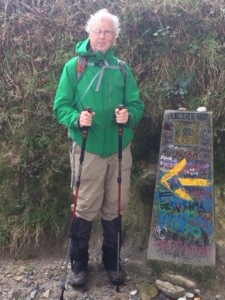 The rains made for interesting going. As before we were often stepping around little rivers. It is a good time to discuss Galicia. It is a temperate rain forest, similar to Oregon. The winds off the ocean fed by the Gulf Stream generate tons of rain.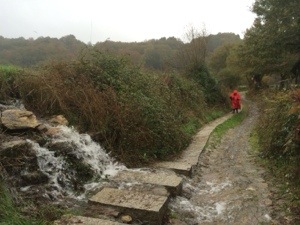 The main smell that has accompanied our last few days brings me mind back to my great grandfather's dairy farm in Jamestown. We also had to avoid frequent brown piles on the road, since there doesn't seem to be anyone carrying plastic bags following the cows.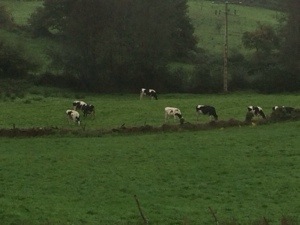 We then came to the Cruz de Memientos and saw various momentos left by prior pilgrims.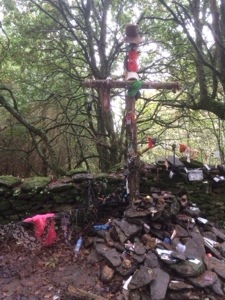 Susan and I were talking about famous first generation Spanish-Americans and Martin Sheen and Jerry García certainly came to mind. Shortly after that comment, we saw this graffito.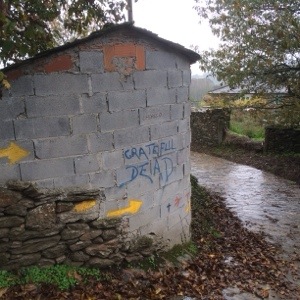 We finally got a break in the rain as we came in to Portomarín.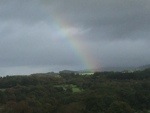 Portomarín is entered going over a high, scary bridge (old Roman bridge below)

We were totally exhausted by the 11+ mile walk and found the lovely Albergue Ultreia and got a room. We went to 7:30 mass at the Iglesia de San Juan (PRS-78-1) and went out for dinner after that. We then came back to the Ultreia to finish drying a batch of clothes which we had washed earlier. The hospitalera helped and we all had a long talk in Spanish again.