Long day, but nice surprise start. The Albergue San Marcos, served breakfast! We had café con leche, croissant, and zuma de naranja natural. The "natural" orange juice comes from a machine that you load whole oranges in the top and get wonderful OJ out. Most bars have the machines in northern Spain. After breakfast we walked for almost two km before encountering our first post.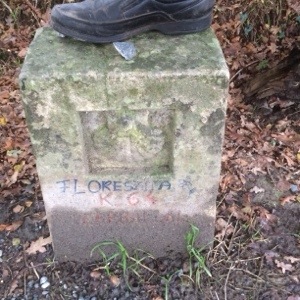 It was supposed to be sunny, but the sun never quite got through but at least no rain. Interesting walk through old villages. Also has to dodge impressive puddles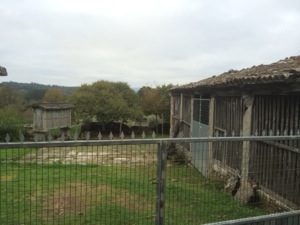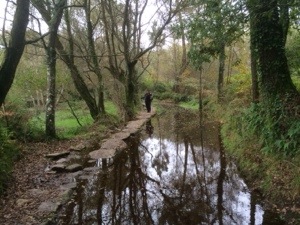 Lots of ups and downs today, plus or mints 100 m ASL. We saw this note on one of our downhills.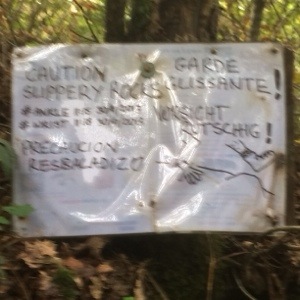 We continued along down a lovely path to a bridge on the Rio Seco. As you can see, it is not dry, despite the name.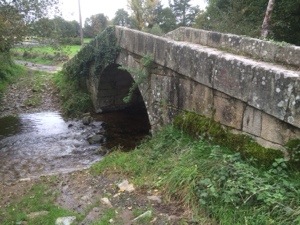 We had lunch in O Coto at the first bar we came to after three or more hours. There we met Dan and Ivy from Staten Island. He had come all the way from France and his wife had joined him in Sarria. We compared notes on who was slower and figured they would pass us. Later we went past an industrial park which had an abstract peregrino statue and an interesting cross.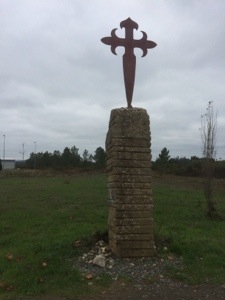 Shortly after leaving the industrial park area, we came upon a young horse who was right on the Camino. His mother was on the other side if the fence but he had somehow escaped.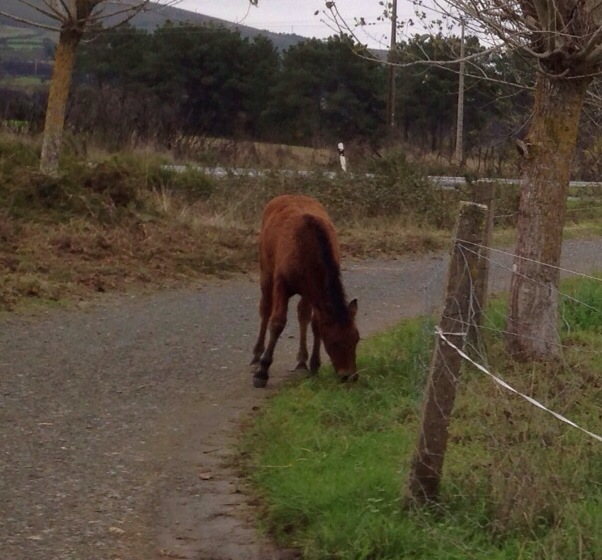 After this picture was taken he came up the fence and his mom made a big noise and he got off the Camino and into an adjacent field, although still on the wrong side if the fence. A little later Susan showed the picture at a nearby restaurant but nobody knew the owners. As we walked along she met a gentleman who said the horse belonged to his neighbor and he would go right there to help.
We continued into Furelo over a medieval four arch bridge and stopped for a beer and baño break.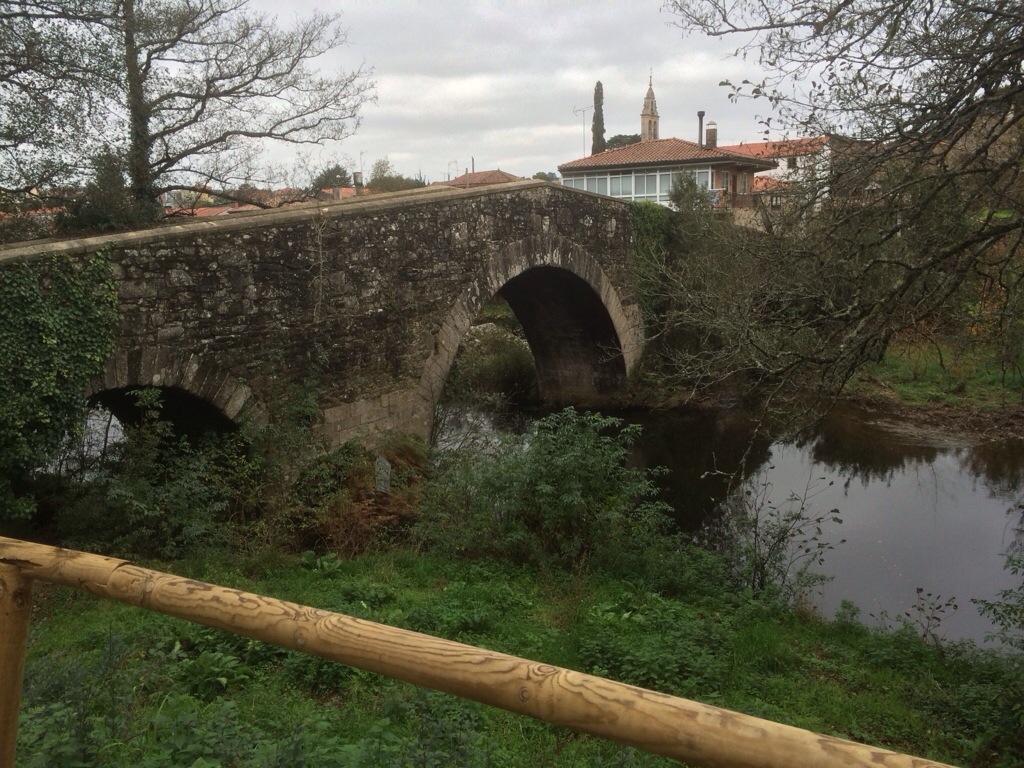 As we left the bar and continued up the final hill to Melide, I looked back and saw Dan waving his trekking pole at us. They were indeed slower. We walked with them into town and they went off to meet a friend at a different albergue. We checked into Albergue Pereiros, relaxed, napped and showered and went out to dinner at the place suggested by our hospitalero, Café Sony. Wonderful dinner including a half kilo veal chop which was the best meat we have had in Spain (we split it). Out early in the morning.