Last night we stayed in Albergue Don Antonio y Doña Cinia. We were In a room for 20 but there were only five perigrinos for the evening. We couldn't find a restaurant so we got take out empanadas and wine and relaxed at the Albergue. We actually both slept fine until. 6:30 am. We shared our wine with a nice Philippine woman, Clara, who now lives in Seattle. She started in September in Roncesvalles and is taking her time.
We were packed and tossed out into the dark at 7:30. We stopped for café con leche and zumo de naranja and waited for sunrise. We progressed out and came across a cute statue.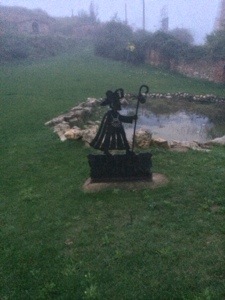 We then came to the place where the Camino divides and tried to take the scenic route but we found that the arrows had been messed with and we found ourselves on the road route. It was noisy, but safe since we walked on paths near the road, not on it. We stopped for coffee in Valverde de la Virgen and saw a newer church with giant stork nests and Alpha and Omega hanging from the cross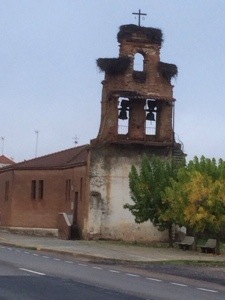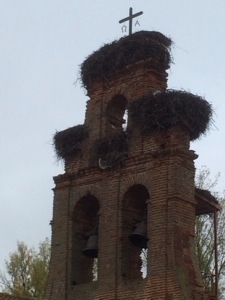 After 8 miles, we stopped for lunch in Villadangos del Páramo and decided that 8 miles was good for the first full day of walking. Collapsed in a hotel room and slept until morning.
Posted from Villadangos del Páramo, Castile and León, Spain.