We had our last breakfast in Hospedería San Martín Pinario and fiddle a while with wifi. Here is the breakfast area.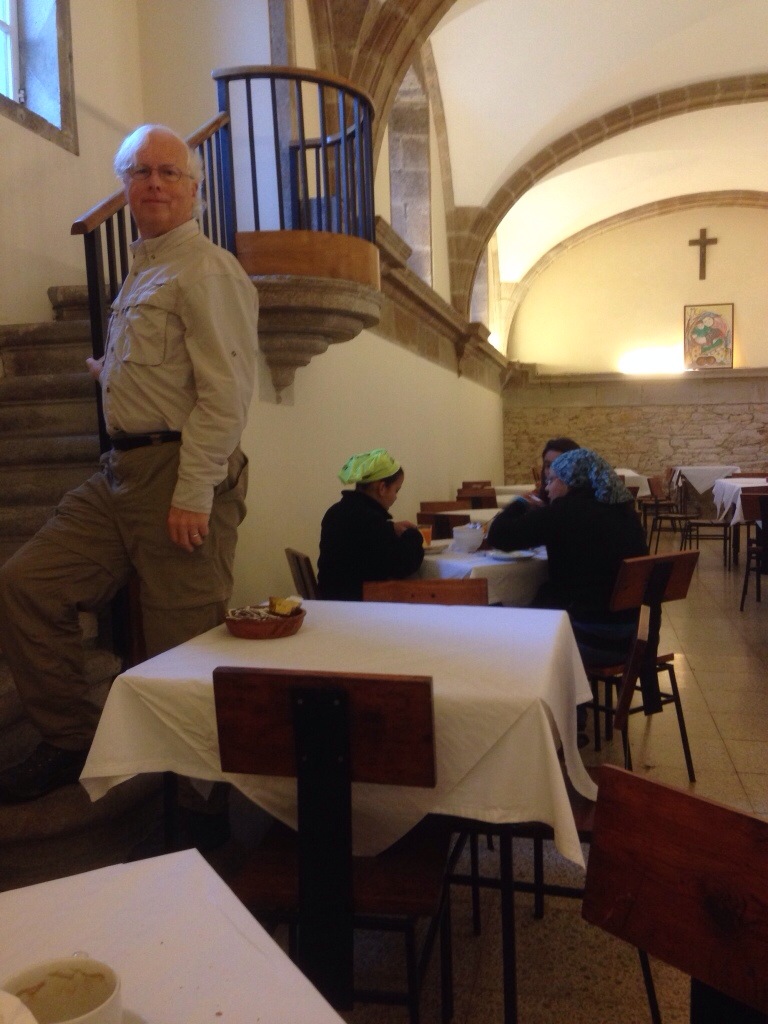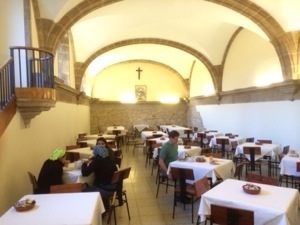 We packed up everything and got ready for a walk down to the Parador. Just as we got to the door to leave, the heavens opened up, so we bundled into full rain gear and walked out. By the time we got bundled, it had pretty much stopped.
We went down to the Parador, and while the outside is not as impressive at first site as the one in León it is still pretty neat. The room is incredible.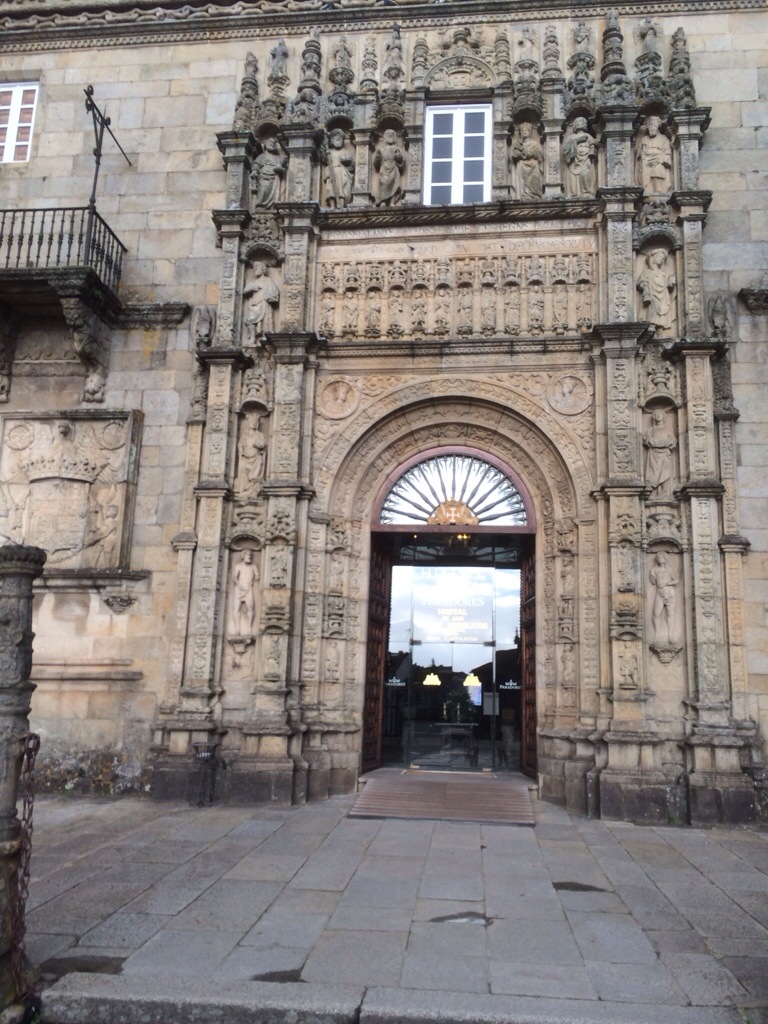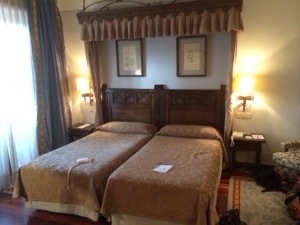 We were given a room immediately and after removing packs and rain gear and relaxing for a little while, we went to the Pilgrimage Museum and read about St James the Greater and saw an exhibit of the stages of building of the cathedral. This is a statue of St Anne with Virgin and child.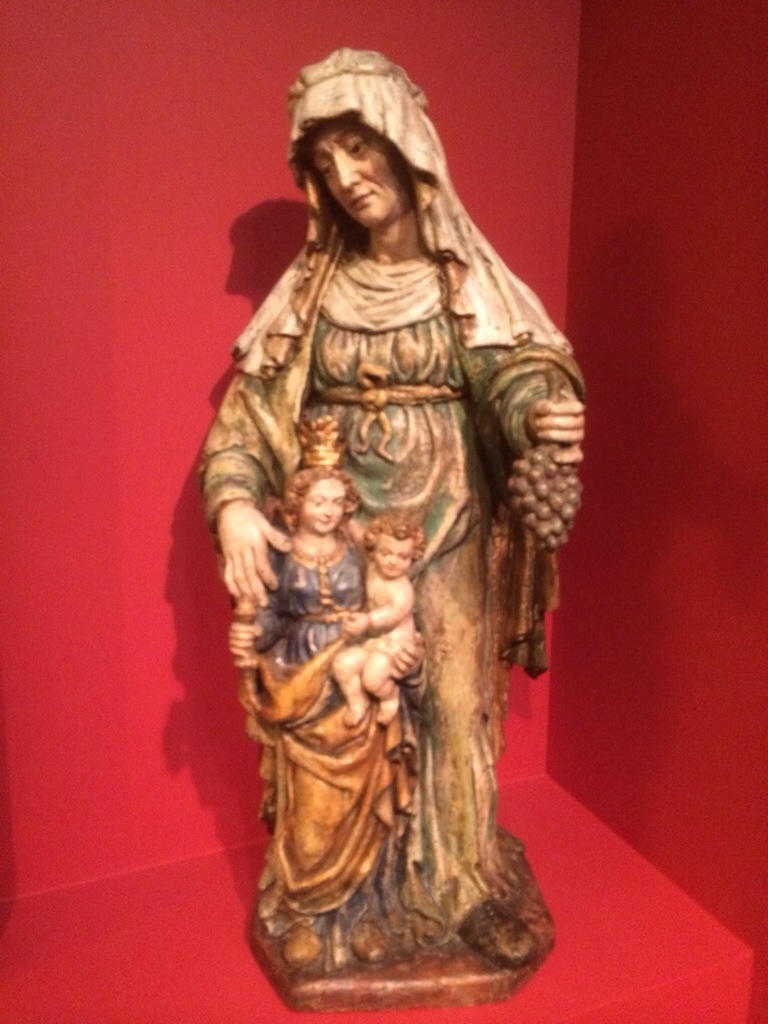 Tradition holds that Saint Anne (Santa Ana) had three daughters, all Mary: the Virgin Mary, Mary Salomé, and Mary of Clopas. Salomé was the wife of Zebedee, and thus mother of James the Greater and John. Mary of Clopas was the mother of James the lesser and Joses.
After that visit we went to the Pilgrim Mass (still no botafumeiro), shopped, and went back to the hotel for some lunch and a siesta. We then did a tour of the hotel. It is the Hostal de Los Reyes Católicos, built as a pilgrim hostel and infirmary by Ferdinand and Isabel from 1501 to 1509. It has four separate courtyards, separated by gender and health: well men, well women, sick men, sick women. They were named for the Gospel writers, Matthew, Mark, Luke and John. Here are the four: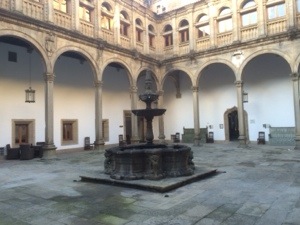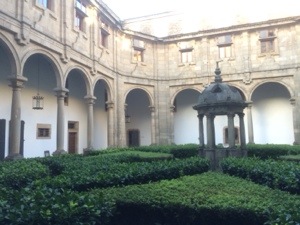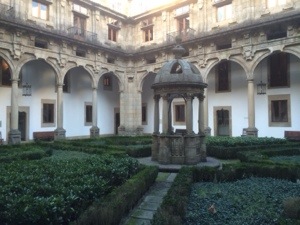 The chapel has incredible 16th century stone carvings, which have never seen weather and look like they might be plaster but are stone.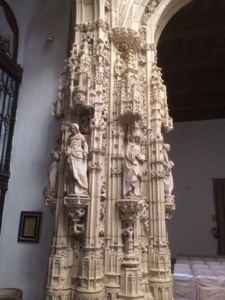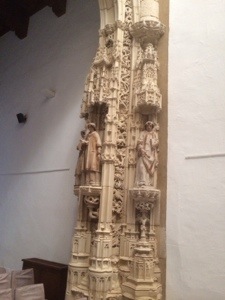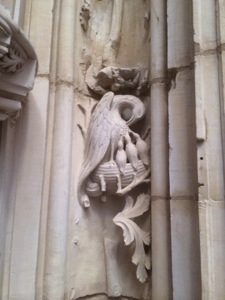 The ceiling and the rejas at the entry were impressive.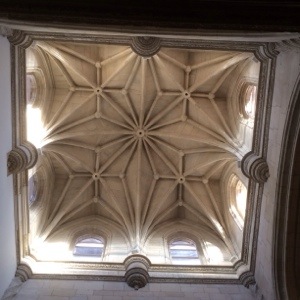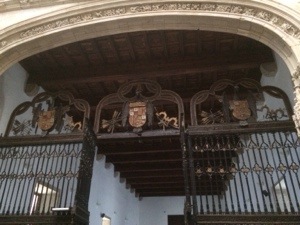 After that we decided to take a walk. We passed the Church if San Francisco, he is popular here since he did the Camino in the 13th century, and were in a minor sun shower with the inevitable result.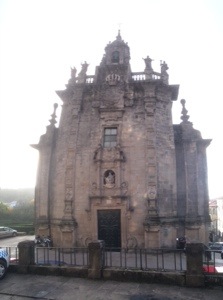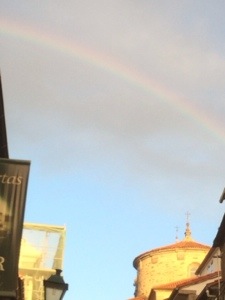 We stopped at a farmacia and then bought some chestnuts at a supermercado. Since we would be having a late dinner we stopped at a bar for vino tinto and some snack. Came back and has dinner at the hotel's Galician restaurant.